Graffiti Removal Service Melbourne
For over 40 years, we have provided quality graffiti removal services for homes , shops , offices and commercial premises all over Melbourne
Graffiti can be tough to get rid of, but graffiti removal services from Prestige House Painting will remove all signs that the graffiti was ever there. While you could attempt to eliminate the graffiti on your own, simply using water and a scrub brush won't do the trick.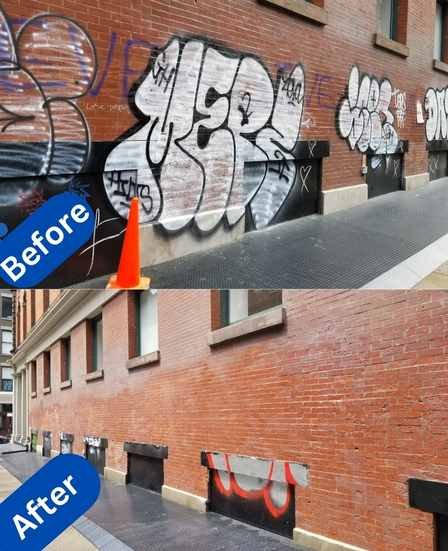 You should also take the time to get estimates from several different cleaning companies to ensure you're getting the best value for your money. Graffiti removal can be an invaluable resource for protecting your property and restoring it to its original condition. If you're looking for a way to protect your property from graffiti and other damage, contact a graffiti removal service today.
Depending on the type of graffiti, our technicians may use a variety of methods, such as chemical treatments, pressure washing, sandblasting, and paint over coatings.
The cost of anti-graffiti coatings cleaning services will vary depending on the size of the graffiti, the material the graffiti is on, and the difficulty of the removal pressure process. Many companies offer free estimates, so it is wise to shop around and compare prices before making a decision. Graffiti cleaning removal services can make a big difference in the appearance of a property. By removing any offensive graffiti, a property can look much better and often be worth more money. A professional cleaning graffiti removal service is a worthwhile investment and can be a great way to restore a property to its original condition.
All of Melbourne including suburbs
We have been in this business for 25 years.
Yes licensed and insured.
If project goes over budget we talk to the customer and try to come to a compromise and explain why the extra costs have been incurred.
We try to do estimates within 2 business days.
Yes changes can be made anytime during the project.
• Expertise: Prestige House Painting specializes in graffiti removal services, and has extensive knowledge and experience in removing graffiti from a variety of surfaces and materials.
• Efficiency: The company uses advanced equipment and techniques to remove graffiti quickly and effectively, minimizing the disruption to your business or home.
• Safe and eco-friendly methods: Prestige House Painting uses environmentally friendly and safe methods to remove graffiti, which reduces the impact on the environment and ensures the safety of the people in the surrounding area.
• Professionalism: The team at Prestige House Painting is highly trained and professional, ensuring that they provide top-quality service with minimal disruption to your daily routine.
• Competitive pricing: The company offers competitive pricing for their services, ensuring that you get the best value for your money.
• Availability: The company is available 24/7 to provide emergency graffiti removal services, ensuring that your property is restored to its original state as quickly as possible.
• Local business: As a local business in Melbourne, Victoria, Prestige House Painting is familiar with the area and understands the unique needs and challenges of the community.