Interior Painting Preparation
PREP FOR INTERIOR HOUSE PAINTING IN WERRIBEE
The start of a quality painting job begins way before the first brush stroke is made. The preparation work made before the painting job commences often determines the quality of the end results.
Poor preparation will ruin the entire project before it even gets off the ground, although time-consuming, surface preparation is very important.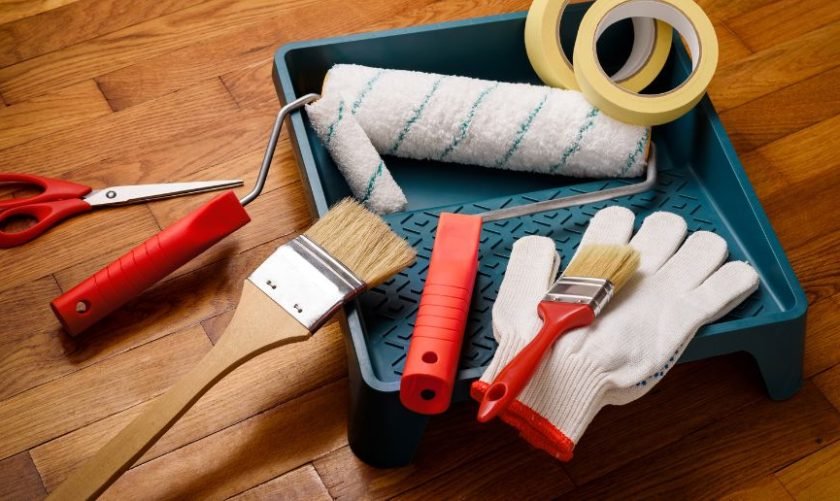 Why is interior painting preparation in Werribee important?
Paint adhesion
The top reason why interior painting preparation is important is because of paint adhesion. Surface preparation helps to ensure that the surface is well-repaired, clean, and even. This provides the best foundation for the paint to bond with the wall.
Surface priming and stain sealing
Another important part of interior surface preparation is that it ensures that the surface is well-primed and all stains are sealed. A primer is a pre-coat that s applied on the surface to prepare it for painting. Surfaces that are well-primed and sealed usually have an even appearance. Priming ensures that the surface to be painted has an even absorption rate for a uniform appearance
Aesthetics give the house appeal
The fact is that the best-looking paint jobs are ones that have been well-prepared , quality interior painting preparation will ensure that all repairs are done perfectly, uneven surfaces are fixed and the paint dries well and without imperfections.
Durability and long-lasting finishes
The last thing you want is to invest in interior painting only for it to last for a short time,  interior painting preparation helps to extend the life of your paint and will enhance its appeal This is important because it helps to save valuable time and money quality house painting is an investment as not only looks great , but also adds value to the house. Painting preparation will ensure that the painting job is done right from the start and done to last with low maintenance.
What does our preparation for interior house painting involve ?
At Prestige House Painting we take interior house painting preparation very seriously because it will determine the quality of the finished project. In this section, we will discuss what our preparation for interior house painting involves.
Step 1: wall cleaning
Our interior house painting preparation begins with wall cleaning. Dirt, grit, dust, cracks, and any other flaw can affect the quality of the paint and that is why cleaning is necessary. Our team will use an appropriate environmental cleaner to get rid of all dirt, grime and dust from the walls, leaving them sparkling clean.
Step 2: Inspection
After cleaning, our team will do a thorough inspection of the walls to check for cracks, nail marks, holes, chipping of paint, blemishes, and imperfections.
We understand that dealing with tradies can be both frustrating and costly, especially if you have to spend additional money after the job is completed to correct any errors. You won't have to worry about poor quality with us and you'll still get a good deal.
Prestige House Painting team are both fully trained and experienced to  repair your cracked plaster walls or ceiling. We can repair any type of plaster or gyprock damage, including holes, cracks, water damage, bulging walls, sagging ceilings, damaged cornices, and any other type of damaged plaster or gyprock that requires repair.
Choosing a Werribee Painter
Step 3: Paint selection
This may seem out of order but it is actually the best time to determine the paint color for your interior. Our team will consult you to know the paint color that you want to be painted on the walls. They will also try different shades of the same color to help you determine the one that you like the most, we are there to help you choose the whole way and happy to offer advice as well as answer any questions you might have.
Step 4: Quality paint
Once you have selected the paint color for your house interior, our team will determine the amount of paint that will be used in the project. The amount of paint that your project will consume depends on many factors, including the size of the area to be painted, and whether you change the color of the walls. For instance, if you are changing the color of the walls, then more paint will be needed. Our experienced team will determine the amount of paint that is needed for the project and give you a quote.
Step 5: Fixing any damage or repairs
This stage involves fixing any holes, indents, cracks, and holes with an appropriate filler. The technique employed in fixing damage on the wall depends on the type and size of the damage, the team at Prestige House Painting , is extremely experienced and trained to repair all types of surfaces .
Step 6: Sanding
Sanding is a crucial process that helps to smoothen the wall after repair to give it an even look and will further enhance the finished job.
Step 7: Wall priming
Priming is not necessary for a wall that was painted before. However, it is beneficial if something needs to be sealed. Priming also helps to enhance paint adhesion and make the paint last longer , in turn saving you money in the future .
Do walls need to be washed before painting?
YES, the walls need to be washed before painting. If you decide to paint over a dirty, chipping, glossy, and flaking surface, the paint will not hold up for a long time. For the new paint coat to stick, the wall needs to be washed thoroughly to get rid of dust and debris that will interfere with the paint's ability to adhere to the surface.
Interior house painting cost in Werribee
Of course, you may be wondering how much interior house painting in Australia costs. Interior painting costs in Australia vary depending on various factors, including the size of the area to be painted, type and amount of paint, location, contractor's experience, and more. But the typical price range for painting a house interior in Australia ranges from $964 to $2,739. Most Australian professional interior painters usually charge per square meter which is about $15-$40 per square meter. This price usually includes a single undercoat and two finish coats.
Can I trust on Prestige House Painting to do a professional job?
Yes, if you are looking for an experienced, reputable, and reliable interior house painter in Werribee, then look no further than us. We have been in this business for many years and we have consistently delivered quality services to all our happy customers. Our team will not leave your project until they are certain that you are 100% satisfied with their work and we always follow up with all our customers after every project , to make sure everything is going well and answer any questions .
We offer a variety of services to meet your needs, including:
And more!
If you're not sure what type of service you need, our team can help you figure it out. We'll sit down with you and discuss your goals for the project, and we'll recommend a solution that meets your needs.
We offer our painting services to a wide area, including but not limited to:
If you don't see your area listed here, don't worry! Just call us, and we'll let you know if we service your area.
'Painting  Beautiful Homes for People to Come Home To Every Day.'
We have a professional and friendly team of highly skilled and hardworking individuals. We are always available to answer any questions you may have.