Your Reliable Manor Lakes Painters
Our team of experienced and highly-skilled painters are dedicated to providing exceptional quality workmanship that will transform your home or business. Whether you need interior or exterior painting services, we have the knowledge and expertise to deliver results that exceed expectations. With keen attention to detail and a commitment to customer satisfaction, our team is proud to be the go-to choice for professional painting in Manor Lakes and the suburbs.
Our Services – Painter Manor Lakes, Melbourne
At Prestige House Painting, we offer a wide range of services to meet your painting needs –
We understand how important it is to have an aesthetically pleasing interior space, which is why we offer reliable painting services for both residential and commercial properties.
Our team will work with you to create a custom colour palette that will complement any style or décor.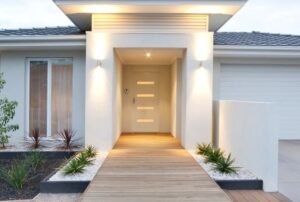 Our experienced team can paint the outside of your home or office in no time, giving it a new and improved look.
We use only the highest quality paints and materials to ensure that the finished product is beautiful and long-lasting.
If you're looking to spruce up your outdoor area, we offer deck and fence painting services. 
Our team is experienced in using paints that are designed to withstand harsh weather conditions and UV rays, helping you maintain the look of your deck or fence for longer.
Whether you are looking for something subtle or something more extravagant, we can help bring your vision to life with our wallpaper installation service.
We also offer a wide range of wallpapers, ensuring that you will find the perfect one for your space.
Whether it's due to cracks, water damage or peeling paint, our skilled technicians can help repair any damage on walls and ceilings with ease.
We use the latest techniques to ensure that your surfaces look as good as new in no time.
No matter what type of painting or wall repair service you need, we've got you covered. Our team of experienced painters is dedicated to providing you with quality work at competitive prices.
Team Of Professional Painters In Manor Lakes
Our experienced team of professional painters have the skills and expertise necessary to handle any job, from interior and exterior repaints to custom mural work.
We know that it's not just about getting the job done quickly – it's about taking the time to do it right.
That's why we use only top-quality paints and materials, combined with our proven techniques and tools, to ensure that you get a perfect finish every time.
At Prestige House Painting , we're not just another painting company. We're a team of passionate professionals dedicated to providing our clients with the best possible painting experience. Here's what sets us apart:
Trusted Painters In Manor Lakes & suburbs
When it comes to painting, we're the experts. We've been painting homes and businesses in Manor Lakes for over 10 years and are proud to be the go-to choice for quality painting services. .
Call Us Today & Get Free Quote – Prestige House Painting, Manor Lakes
At Prestige House Painting, we offer the highest quality and best value painting services in Manor Lakes. We understand the importance of aesthetics in your home or business and strive to provide you with a hassle-free experience.
Whether you are looking for a full house re-paint, office wall coverings or specialty finishes, our team of experienced commercial and house painters can help make your vision come to life.
We not only guarantee top-notch workmanship but also affordable rates and unbeatable customer service so don't hesitate to reach out today!
Painters typically charge between $20-$50 per hour in Melbourne.
The cost to paint a 4-bedroom house can vary depending on the size and condition of the home but it usually ranges from $4,000-$8,000 AUD based on industry averages.
Yes, painters often require customers to pay a deposit upfront and then the remainder upon completion of their job.
It typically takes 1-2 days to paint a room, or longer if multiple coats are required.
Paint is generally included in the quote unless otherwise specified by the customer.
We recommend getting 3 quotes for house painting so that you have an opportunity to compare pricing and services between different companies.
Generally, painting your home will increase its value, particularly if you choose to use high-quality paints and materials.
Painting over old paint is not recommended as the existing layer can bleed through and cause uneven coverage.
Yes, professional painters should always wash walls before beginning a job in order to remove any dirt or particles that could affect the appearance of the finished product.
We recommend painting walls before the ceiling for optimal results. The wall should be dry before beginning the roof painting so that there is no risk of smudging or smearing due to moisture transfer from one surface to another.
We offer a variety of services to meet your needs, including:
And more!
If you're not sure what type of service you need, our team can help you figure it out. We'll sit down with you and discuss your goals for the project, and we'll recommend a solution that meets your needs.
If you don't see your area listed here, don't worry! Just call us, and we'll let you know if we service your area.