Exterior painting services are an essential part of maintaining the appearance and structural integrity of your home or business in Point Cook. A fresh coat of paint can protect your Point Cook property from the elements, enhance its curb appeal, and increase its value. Let's explore the benefits of exterior painting services and provide tips on how to choose the right painting company for your project.
Benefits of Exterior Painting Services:
Protection from the Elements:
  The exterior of your Point Cook property is exposed to the elements, including sun, wind, rain, and snow. A high-quality paint job from professional painters can protect your property from the damaging effects of weather and prevent moisture from penetrating the surface.
Enhanced Curb Appeal:
  A well-painted exterior can enhance the curb appeal of your property, making it more attractive to potential buyers and visitors after services from expert painters. A fresh coat of paint can also update the look of your property and give it a modern and updated feel.
Increased Property Value:
A well-maintained exterior can increase the value of your property. A fresh coat of paint from your friendly neighborhood painters can make your property look new and well-maintained, which can translate into a higher resale value.
Cost-Effective:
  Exterior painting services are a cost-effective way to improve the appearance and value of your property. Painters and their services are less expensive than other home improvement projects, such as remodeling or adding a room.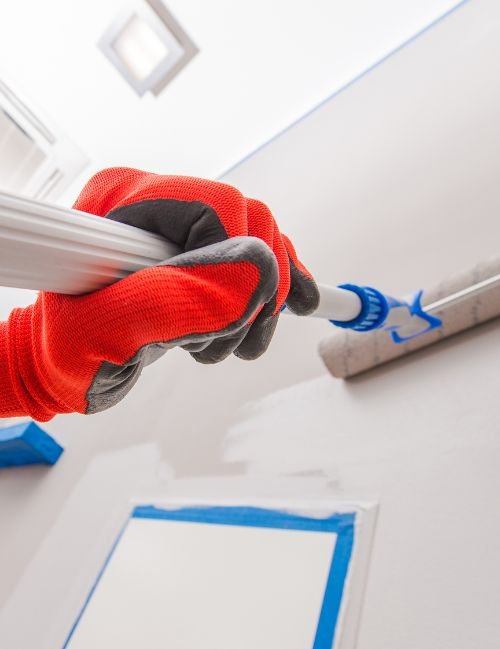 Choosing the Right Exterior Painting Company:
Check for Licensing and Insurance:
 When choosing an exterior painting company, ensure that they have the necessary licensing and insurance to operate in your area. A licensed and insured company has the required training and qualifications to handle a wide range of painting jobs, and insurance protects you and the company in case of any accidents or damages that occur during the job.
Look for Experience:
 Choose a painting company with experience in exterior painting services. An experienced company will have the knowledge and skills to handle a wide range of painting jobs, and they will know how to properly prepare surfaces to ensure the paint adheres properly.
Check for Quality of Materials and Tools:
 The quality of the materials and tools used by the painting company can impact the overall finish and longevity of the paint job. Ask the company about the type of paint they use and the quality of their tools to ensure that they will provide a high-quality finish.
References and Portfolio:
 A reputable exterior painting company should be able to provide you with references from previous clients. Check their portfolio to ensure that they have experience working on properties similar to yours.
Overall, exterior painting services can enhance the appearance and value of your property while protecting it from the elements. When choosing an exterior painting company for services, ensure that they have the necessary licensing and insurance, look for experience in their painters, check for quality of materials and tools, also, ask for references and a portfolio. By following this helpful guide, you can find a reputable painting company that will provide high-quality exterior painting services to meet your needs and have your home looking better than ever!